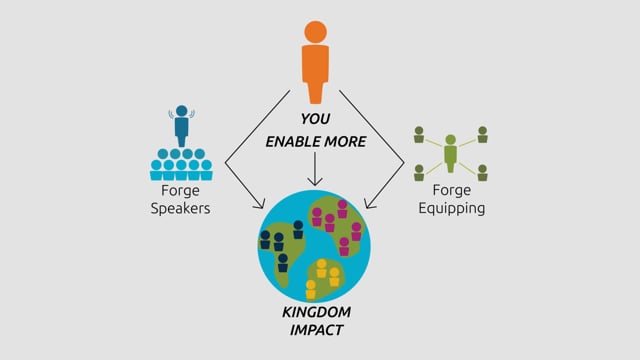 Donate Today or Become a Monthly Partner Give
The Celebration
Forge's 30th anniversary is a year of celebration, forward vision, and God-directed movement to make a way for MORE KINGDOM IMPACT!
30 years ago, a few prayer-dependent pioneers caught wind of God's ancient-future plan to reach the world—equip and mobilize more Kingdom Laborers to impact the world.  God was calling, and they followed.  With a five dollar bill and a whole lot of faith, the work began!  From 1986—2016, God has multiplied His Kingdom work year after year through committed staff, faith-filled prayer partners, passionate speakers and generous donors.  An enormous, "GLORY TO GOD," for the thousands who have been challenged, equipped and mobilized to be Kingdom-impacting disciples in action around the globe.
I
magine what will happen over the next 30 years as MORE of God's people pray and respond in faith … let us show you an exciting way to partner with Forge.
30th Year Vision = 30% More
30% Forge Speaker & "Firebrand" (Speakers in Training) GROWTH
30% MORE 2016 Ministry Events 
30% MORE Spiritual Decisions
30% MORE Lives Equipped
30% MORE Prayer Workers
30% MORE monthly Forge Donors and Increased Giving
MORE … Through You
Together with God, and together with you, Forge Speakers and Forge Equipping programs can lead MORE ordinary people to draw near to God and become Kingdom Laborers who are making one life at a time differences for a lifetime.
Your prayers can make this vision a possibility, and your donations make it a reality!
Make your first donation to the Forge Fund

Become a monthly giver or give a one time donation.
Increase your current giving by 30%

Already giving $30/month? Consider $39/month!
Become a Prayer Partner

Pray with us for God to raise up MORE Kingdom Laborers. Sign-up HERE!
All new and increased giving will be matched, dollar for dollar, up to $300,000!